Worship in English 2021 in the Bergkirche
First Sunday of the month 11:00 AM
First Sunday:Livestream worship at the Bergkirche at 11 AM
Second Sunday: Zoom Dinner Church at 6 PM
Third Sunday: No Gathering Due to Coronavirus Restrictions
Fourth Sunday: Zoom Worship/Bible Study at 11 AM
For more information or to be added to the email list,
please contact Rev. Hannah Cranbury.
The Bergkirche Sometimes Angels Pick-up Choir welcomes all who like to sing.
The Choir will reconvene as soon as restrictions on group singing are in the
church are suspended.
Contact Rhodri Britton if you would like to sing with the choir:
rhodribritton@t-online.de
---
Upcoming Events in the Bergkirche:
The English Community Outreach Project
Protestant Deanery of Wiesbaden
in the Bergkirche
July 4, 2021 at 11 AM
Guests: Die Pullies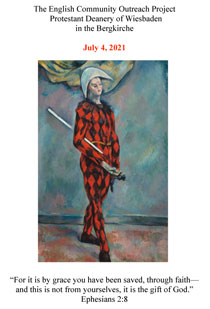 ---
"The English Community Outreach Project combines the liturgical tradition of the German Protestant Church with the multi-faceted spirit of the United Church of Christ (USA). Worship includes a variety of musical traditions: classical,,Appalachian and contemporary, with roots in African, American, and European musical traditions."

Fundraising update
As you may know, the English Outreach is unique in Germany in that it is
supported fully by the generosity of those who attend. For the congregation's
contract to renew, the congregation must contribute 18.000,- € to our annual
expenses before the end of September. Help us reach our goal and invest in
this community that means so much to you by giving a tax-deductible
donation!
If you are able to donate, please let Rev. Cranbury know of your contribution,
so that we can track the funds to our congregation.
"Spenden englischsprachiger Gottesdienst"
IBAN: DE75 5206 0410 0104 0077 78 – BIC: GENODEF1EK1
English Community Project
Rev. Hannah Cranbury – Protestant Deanery of Wiesbaden
email: hannahcranbury@gmail.com Tel: +49 176 – 75 971 916